Resources for Your Health
In nutritional therapy sessions, programs, and group classes, Summer recommends a variety of foods, supplements and lifestyle changes to help you achieve vibrant health. Here, you'll find the resources to help you follow through with Summer's recommendations. Receive the benefit of Summer's years of research when you purchase the health PRODUCTS Summer carries in her office, or the recommended AFFILIATED PRODUCTS that you can buy online. You can access the high-quality information that informs Summer's recommendations by checking out the RECOMMENDED READING and RECOMMENDED ORGANIZATIONS. For those folks here in Southern Oregon, ROUGE VALLEY RESOURCES can get you connected with real food right here in our community.
Affiliated Products:
When Summer finds a product that meets her high standards, she is excited to recommend it to her clients, and the opportunity to affiliate with the companies that produce these products creates a win-win-win: Affiliated companies benefit from your patronage, you benefit from their quality products, and when you use the links below to make a purchase, Summer is able to benefit by receiving a portion of the profits of your purchase from the company, at no additional cost to you. The more you use the links I provide to purchase products that will help keep you on track with your health and healing, the more I will be able to offer additional opportunities for sales and specials for you! Check back frequently, as new affiliates are being added all the time. Click on the image or product name below to be directed to a site where you can purchase these products for yourself.
Featured Affiliate: Cellerciser Rebounder
Cellerciser Exercise Rebounder: Exercise is key to well-being, and the Cellerciser is Summer's favorite way to exercise. From the comfort of your home, you can get a whole-body workout that is quick, easy and FUN! This product may bring to mind happy memories of the mini-trampolines of your childhood, and that's great -- what better way to inspire you to get the exercise you need! But don't be fooled -- this ain't your childhood trampoline! This is a high-quality, durable rebounder with triple-tiered springs and an all-steel frame that is designed to give you the ultimate work-out for years to come.
Bone Broth: Summer's #1 Healing Food
Bare Bones Broth
: Click to buy traditional bone broth, Summer's #1 recommended healing food. Bare Bones Broth, which began in the Rogue Valley of Southern Oregon, creates nourishing broths for general use, as well as a line of "sipping broths" designed for drinking on their own, with rich flavors derived from real foods and herbs. Learn to make your own bone broth on my blog by clicking
HERE
, but if you don't have time to do it yourself, let these folks do it for you!
Grass-Fed Gelatin for Protein Your Body Can Use
Gelatin from grass-fed animals provides the most easily assimilated, highest quality protein for your body. This means that even people recovering from illness or suffering from chronic digestive issues can receive nourishment from gelatin. In fact, the high gelatin content of bone broth is one of the things that makes it such a nourishing food. This versatile protein powder can be added to broth to enhance its benefits, or have some kitchen fun and make gelatin-based treats like gummies or jellos. This is one of the few processed foods Summer may recommend as part of a nourishing diet.
GoBio Organic Gelatin
: Summer's #1 recommendation for gelatin. Like all Summer's gelatin recommendation, this is a quality grass-fed gelatin product, but GoBio!, produced in Germany and certified organic by US & Canada accredited Pro-Cert, is the only truly organic gelatin that Summer has found. Though organic is always preferred, Summer does also recommend some non-organic, but always grass-fed, gelatin producs below.
Vital Proteins Pasture-Raised Beef Gelatin
: This is another grass-fed gelatin option that is a solid choice at a lower price-point. It is guaranteed to be free of gluten, recombinant bovine growth hormone (rBGH) and genetically modified organisms (GMOs). Vital Proteins also offers a selection of other gelatin, collagen and other nutritional supplements, including their beef gelatin one pound and two pound canisters, as well as in single-serving packets for ease of use on the go.
Great Lakes Gelatin
: Great Lakes offers the additional option of a collagen hydrolysate, which is processed to be more easily assimilate. It dissolves easily in hot, warm or cold liquids and will not congeal. If you are looking for an option for nourishing jellos, gummies or thickening agents, choose a regular gelatin which will congeal when cooled, but for an added protein boost that won't gum up your broth, juice, water, etc., the hydrolysate is your best choice.
Thrive Market: Your Online Source for Products I Recommend
Thrive Market is an online wholesaler of healthier food, body and cleaning products. It's sort of a Costco/co-op/Amazon mash up that lets you shop their wide selection of wholesale-priced products for the health-conscious set online for an annual membership fee of $60, with free shipping on all orders. If you want to save time by shopping online while still purchasing clean, quality food and other products, Thrive membership is a great choice. Click here to sign up with Thrive today.
Other Nourishing Foods
Vital Choice Seafood: Seafood can be a wonderful nutrient-dense addition to your diet, if you choose the right seafood. Vital Choice makes it easy to get the best quality seafood delivered to your door. For more information about the benefits of eating seafood (and why the benefits outweigh concerns about contamination) see Summer's blog post on the topic HERE.
US Wellness Meats
: In 1993, a beef farmer named John Wood attended a lecture on holistic land managment. This lecture began John's journey into raising 100% grass-fed beef using rotational grazing, and planted the seed that grew into US Wellness Meats. Here you will find meats and dairy products that are tastier, more nutrient-dense, and gentler on the planet than those that grain-feeding ranchers are able to produce. To learn more about the grass-fed difference,
CLICK HERE
for Summer's blog post on the topic.
Rockside Ranch
: Rockside Ranch in Aetna, CA is my go-to for pasture-raised chicken, lamb and pork. My friends Jen and Craig raise their animals in keeping with Weston A. Price Foundation principles and the work of Joel Salatin. They let their animals roam through grass fields and woods that are never treated with herbicides or pesticides (meat is USDA certified organic), and there is no soy or GM ingredients in any animal feed used. This is the kind of meat I eat myself and recommend to all my patients. Visit
http://www.rocksideranch.org/ordering/
to order, and
be sure to enter my name, Summer Waters, in the "Referred By" box
, so that I can receive a coupon for having referred you. This is an unusual affiliate in that you MUST enter my name rather than simply following the link, and I thank you for taking that extra step to help me benefit as well. If this is your first order with them, and your order is over $100,
enter the coupon code HELLO10 for a 10% discount.
Tropical Traditions Coconut Oil
: The coconut plam has been called the "tree of life" in traditional cultures who use it, and it is easy to understand why! Saturated fats (like those found in coconut oil) are the preferred fuel for the heart muscle, and provide essential nutrients for optimal brain function. Tropical Traditions provides some of the highest quality coconut oil around, as well as many other nourishing-food products.
Essential Kitchen Tools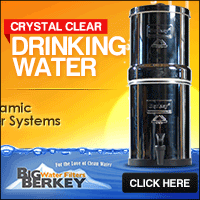 Big Berkey Water Filters
:
Proper hydration is essential for optimal health and well-being.
CLICK HERE
to see Summer's tips for maintaining good hydration. The cornerstone of good hydration is pure water, free of chemical or biological pollutants. Most water that comes into our homes through our pipes containes chlorine, which has been added to kill germs, and unfortunately, it can have the same effect on the benefitical bacteria in the gut, which are key to the helath of your entire system. Berkey filters remove chlorine, bacteria, viruses, flouride, chromium 6 and more. They sit on the counter top (no installation required!) and they require no power to operate; filtration is powered entirely by gravity. They have different options for different household sizes, and you can buy all your replacement filters on their site as well.
Other Wellness Products
Uvex UV Blocking Glasses
:
Sleep is one of the best medicines, but in our fast paced modern culture our bodies can get thrown off by our use of artificial lighting at all hours. Melatonin production in your body is essential for deep, restful sleep and bright indoor lighting at night inhibits its production. These glasses will prevent the negative effects of artificial light on your natural melatonin production by filtering out the blue spectrum rays that signal daytime (wake up!) to your body. Wear them around the house in the evening after the sun goes down to maintain a healthy circadian rhythm, especially for those who struggle with getting a good night's sleep. Even when you have to stay up late, these specs will help you get deep, sound sleep when you're done. Does your partner leave the light on in the bedroom after you go to sleep? Some patients even wear the glasses to bed so they can still get a good night's rest. Though the glasses are not designed to sleep in, this can work if you lay on your back.
Top Products Available from Summer:
Summer began selling products out of her office because she wanted to make it easy for you to implement the best health recommendations to accomplish your health goals. After years of research, Summer is confident that she carries only the best products for your health. The products featured below are the best of the best, and you can purchase these products and more in the office and in some cases from the Organic Elements Spa boutique.
Recommended Reading:
Click the image or title to purchase these books from Amazon.
Many of these books are also available from Summer and can be purchased by contacting her at Support@SummerWaters.com or by calling 541.326.8952.
Nourishing Traditions: The Cookbook that Challenges Politically Correct Nutrition and the Diet Dictocrats
by Sally Fallon-Morell. This well-researched, thought-provoking guide to traditional foods contains a startling message: Animal fats and cholesterol are not villains but vital factors in the diet, necessary for normal growth, proper function of the brain and nervous system, protection from disease and optimum energy levels. Sally Fallon dispels the myths of the current low-fat fad in this practical, entertaining guide to a can-do diet that is both nutritious and delicious.
Topics include the health benefits of traditional fats and oils (including butter and coconut oil); dangers of vegetarianism; problems with modern soy foods; health benefits of sauces and gravies; proper preparation of whole grain products; pros and cons of milk consumption; easy-to-prepare enzyme enriched condiments and beverages; and appropriate diets for babies and children. This is a great reference book as well as a cook book.
Primal Body, Primal Mind: Beyond the Paleo Diet for Total Health and a Longer Life
by Nora Gedgaudas, CNS, CNT. Examining the healthy lives of our pre-agricultural Paleolithic ancestors and the marked decline in stature, bone density, and dental health as well as the increase in malnutrition, birth defects, and disease following the implementation of the agricultural lifestyle, Nora Gedgaudas shows how our modern grain - and carbohydrate-heavy low-fat diets are a far cry from the high-fat, moderate-protein hunter-gatherer diets we are genetically programmed for, leading not only to life long weight gain, but to cravings, mood disorders, cognitive problems, and "diseases of civilization" - such as cancer, osteoporosis, metabolic syndrome (insulin resistance), heart disease, and mental illness.
Cure Tooth Decay: Heal and Prevent Cavities with Nutrition, 2nd Edition
by Ramiel Naigel. Whether you an adult struggling with tooth decay, a parent of a young child with cavities, a pregnant mom, the book Cure Tooth Decay will provide you with information, resources and tools to immediately slow down, stop and/or remineralize your cavities. Cure Tooth Decay is the result of five years of research and trial and error. Many people have reported positive results from applying the highly potent tooth remineralization guidelines in this book.
Eat Fat, Lose Fat: The Healthy Alternative to Trans Fats
by Mary Enig and Sally Fallon. Highlighting the healthy alternatives to trans fats, this revolutionary, science-based foods program explains why we must eat quality, healthy saturated fats - especially coconut - to achieve long term weight loss and life long good health. Includes many recipes and citations to studies that demonstrate that the staurated fat/cholesterol/heart disease hypothesis is misguided at best and at worst, deeply harmful to our nation's health.
The Whole Soy Story: The Dark Side of America's Favorite Health Food
by Kaayla T. Daniel, PhD, CCN. A groundbreaking expose that tells the truth about soy that scientists know but that the soy industry has tried to suppress. Soy is not a health food, does not prevent disease and has not even been proven safe. Epidemiological, clinical and laboratory studies link soy to malnutrition, digestive problems, thyroid dysfunction, cognitive decline, reproductive disorders, even heart disease and cancer.
The Power of Habit:
Over years of working with clients and looking at my own life, I've come to see that habits are at the core of why we do what we do. From the food choices we make, to the amount of movement we get in our lives, and even the thoughts that we have, all of it comes down to habits that serve us or habits that sabotage us. See my complete review of this book on the blog HERE, and read this book when you are ready to transform your habits into powerful tools that serve your greatest good!
Nutrition and Physical Degeneration: A Comparison of Primitive and Modern Diets and Their Effects by Dr. Weston A. Price, MS., D.D.S., F.A.G.D.. First published in 1939, this monumental but highly readable book is designed to preserve the classic study of Dr. Price's worldwide investigation of the deleterious effects of processed foods and synthetic farming methods on human health, and the promise of regeneration through sound nutrition. This bestseller contains guidelines for approaching optimum health and reproduction, now and through future generations, as did the primitives. Dr. Price has been universally accepted as one of the foremost authorities on the role of foods in their natural form in the overall health pattern and the development of degenerative illnesses as a result of the addition of processed foods to our diet. Click here to link to a free copy of this publication that is available online!
Note: Summer is a participant in the Amazon Services LLC Associates Program, an affiliate advertising program designed to provide a means for sites to earn advertising fees by advertising and linking to amazon.com. This allows Summer to be compensated for the time she spends researching and promoting resources for your health, like the books recommended above. You can feel good knowing that buying Recommended Reading books using the links above allows Summer to share in the profits from your purchase at no extra cost to you. Thank you!
Recommended Organizations:
Rogue Valley Resources:
I LOVE our beautiful, bountiful Rogue Valley here in Southern Oregon! I want to share some of my favorite Rogue Valley resources for locals - or for those blessed to be visiting.
Enjoy all the goodness of local, organic, home-cooked REAL FOOD meals, with none of the work! I hear over and over from my patients that a lack of time or culinary skill can get in the way of following my dietary recommendations. I'm excited to be able to offer a solution for those living in the Rogue Valley: Chef Kristen! Order online and pick up meals, sides, bone broth and/or nourishing treats from her Jacksonville location, or have them delivered to your door. Tell her I sent you by writing "Referred by Summer Waters" in the "Order Notes" field of the online checkout, so that I can deepen my relationship with this fabulous local business, and receive a credit toward my own order of ready-made nourishing food. CLICK HERE to order from this week's menu of local goodness.
THRIVE is one of my favorite local resources because of the wide variety of local farms
Thrive provides so much to our Rogue Valley! and ranches and other area businesses they list in their Rogue Flavor Guide. Just click on the photo of the Rogue Flavor Guide to download and browse at your leisure, or you can see the local business listings below it for information on where to pick up a paper copy. Their "Buy Local, Buy Rogue" campaign is helpful in connecting residents with the necessary information to help promote many fine local businesses. If you would like some encouragement about why buying locally produced products is the best investment you can make, be sure to click here. Thanks THRIVE for all
you do for our local farmers, consumers, and business owners!
Rogue Valley Grower's and Crafter's Markets are such a rich
Every new patient gets a copy of the Rogue Flavor Guide.resource for connecting with your local farmers and ranchers to source as much food as is feasible from our local foodshed. This translates into better quality, fresher foods (more flavor and more nutrition) with some fun community interaction while sometimes soaking up some valuable vitamin D from the sun while you do your outdoor shopping.
Farmer's Markets Rock!Folks, it just dosn't get any easier to take care of your health! As always, I recommend and encourage you to ask questions of YOUR farmers and frequent the stands of those who are raising foods in the way you want.
Our awesome area food cooperatives include the long established Ashland Food Co-op
Join the AFC Today!(AFC) and the newer, Medford Food Co-op (MFC).
Join the MFC Today!Oh, how I LOVE our area co-ops! I am a proud member of both of these businesses and enjoy the benefits of 10% off coupons and $5.00 off coupons regularly. Everyone can shop and anyone can join! Please consider an investment in your food and community by becoming a co-op member today!
Project Rogue Valley (PRV) is another local treasure. I appreciate the work this growing organization does to "make a major difference in the quality of Rogue Valley life for years to come." Just imagine what we can accomplish at our local level if we all help support this type of community led, grassroots activism!
PRV is " building a healthy, self-reliant community for today and tomorrow."
The Weston A. Price Foundation (WAPF) is a nonprofit that disseminates the research and teachings of nutrition pioneer Dr. Weston Price. Price's studies of isolated non-industrialized people determined optimum characteristics of human diets. As the Volunteer Chapter Leader for the Rogue Valley Weston A. Price Foundation (RV WAPF) Chapter, I hope you will join me at one of our regular meetings! For more information regarding our RV WAPF local chapter activities, you can join us at one of our meetings or see our Informational Handout. If you would like to receive important health and food related announcements (including local meeting announcements) from our free online RV WAPF Yahoo Group please sign up here.
Sign up to show your support!Foods made with genetically-engineered ingredients pose a threat to our health and our environment. Our Family Farms is one organization working to protect family farms and traditional seeds from the threats of genetically engineered (GE) crops here in the Rogue Valley and beyond. Through education, collaboration, and legislation, Our Family Farms is promoting the benefits of farming practices that keep genetically engineered crops out of designated regions - GE-free agricultural zones.

Click the image to the right to learn more about Our Family Farms. Click here to educate yourself about the dangers of GMOs!
That's all for now folks, but there's plenty of other local gems. Please let us know if you really think something needs to be listed here under the Rogue Resource Page. Just send us an email to Support@SummerWaters.com and we'll check it out. Thanks!